Fitness enthusiasts always look for the best supplement to augment their workout efforts. One of the products that helps them do so is Alpha Test from MuscleTech. Read our detailed Alpha Test testosterone booster review to find out if this testosterone supplement is worth buying.
Optimal testosterone production is critical for energy levels and top physical performance. This is why fitness enthusiasts always search for additional testosterone boosts to take their performance even further. While testosterone replacement therapy is the fastest way to raise serum testosterone levels, this comes with side effects in the long run.
Made by veteran supplement company MuscleTech, the Alpha Test testosterone booster could be your best bet if you are looking for natural ways to support testosterone production.
This Alpha Test Booster Review will go over what makes the MuscleTech Alpha Test Booster such a great testosterone supplement. We'll review its ingredients, how they work in the body, as well as its health benefits and safety.
What Is MuscleTech AlphaTest?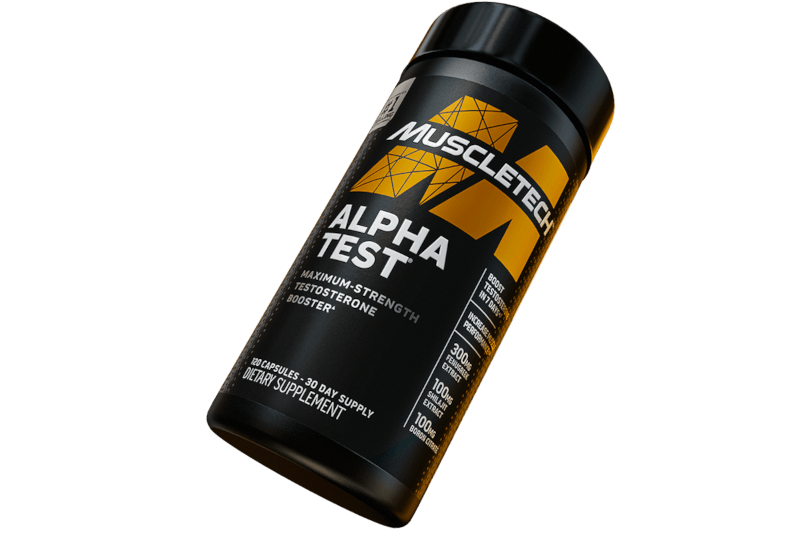 The MuscleTech Alpha Test testosterone booster is a dietary supplement that is meant to raise natural levels of both total and free testosterone.
It combines natural ingredients, including minerals, vitamins, and herbal extracts, to increase testosterone production in the human body.
It encourages the luteinizing hormone to create a hormonal balance by stimulating the production of testosterone and decreasing the production of cortisol and estrogen.(1) This gives users higher energy levels and increased stamina and endurance.
Each MuscleTech AlphaTest comes with 120 pills per bottle, good for one month. It promises to increase testosterone levels in only 7 days, allowing users to achieve ideal results in a few weeks.
Pros
Much cheaper than other brands ($24.99 for 120 pills)
Made by a reputable company (MuscleTech).
Commercially available on third-party seller websites
Cons
Some of the ingredients are underdosed, making them not as effective as they could be.
| | |
| --- | --- |
| Image | |
| Product | Alphatest |
| Product Type | Bodybuilding supplement |
| Manufacturer | Muscletech |
| Effects | Aids in sex drive and libido while boosting stamina and hypertrophy |
| Potential Side Effects | Nausea, headaches, and minimal allergic reactions |
| Dosage | 2 pills twice a day |
| Content | 120 capsules |
| Price | $29.99 |
| Money Back Guarantee | 30 days |
| Rating | ⭐⭐⭐⭐⭐ 4.7/5 |
| Official Website | Click Here › |
What are the Ingredients in MuscleTech AlphaTest?
This MuscleTech product is formulated with the following natural ingredients:
It also contains inactive ingredients to ensure the stability of the formula, including gelatin capsules, rice flour, magnesium stearate, and silicon dioxide.
How Does MuscleTech AlphaTest Work in the Body?
Alpha Test contains only five active ingredients that work together to help users achieve greater T levels and hormonal balance.
Key ingredients in AlphaTest directly stimulate testosterone production at the testes and indirectly via increased luteinizing hormone. In addition, AlphaTest also acts as a mild estrogen blocker, slowing the conversion of testosterone into estrogen. By elevating the T levels, AlphaTest allows men to perform at their best. It improves focus during exercise by promoting the brain-muscle connection. This allows men to train more efficiently and gain muscles faster.
Men who use test boosters may find themselves in the same shape as they were in their twenties.
What are the Benefits of Using MuscleTech AlphaTest Testosterone Product?
Alpha Test promises its users stronger, fitter, and more defined bodies. It helps men achieve better physical, mental, and sexual performance.
AlphaTest allows athletes to achieve their peak physique, giving them the muscle strength, more muscle mass, and stamina to reach heights that aren't usually possible in their middle ages. With AlphaTest, your exercise recovery times go down. And finally, you can be happy with that increase on the bench press.
If you consistently take the daily dose of AlphaTest, your body composition, muscular strength, and athletic performance will all improve. Your performance matters, and AlphaTest is a great buddy to take care of it.
MuscleTech AlphaTest Testosterone Booster Reviews and Customer Feedback
Let's look at some real reviews users have for the AlphaTest product:
One Amazon reviewer said that he "felt an increase in libido" and felt "more like a Macho Man than Randy Savage" or "The Village People." He found it to be worth the price and very effective.
A Walmart reviewer also praised AlphaTest, "increasing his overall performance" and "felt the difference just taking two capsules twice a day."
What Results Can You Expect from MuscleTech AlphaTest?
Alpha Test promises higher test levels in 7 days. This allows users to build stronger muscles more quickly. It also allows them to cut fat and boost their metabolism.
Users can expect to have more energy, a better mood, improved confidence, and an increased libido. Since AlphaTest helps with blood flow, it can also benefit men suffering from erectile dysfunction.
Where to Buy MuscleTech AlphaTest?
Alpha Test is available for purchase on the MuscleTech website. Many resellers also sell it in different countries around the world.
How Much Does MuscleTech AlphaTest Cost?
Alpha Test is one of the cheapest boosters on the market, worth around $20–25 per bottle. It costs nearly $40 less than its closest competitors.
Does MuscleTech AlphaTest Have a Money-Back Guarantee?
MuscleTech offers a 30-day money-back guarantee if you are unhappy with their products. Individual distributors may have different terms of money-back guarantee, if any.
How Can You Contact the Manufacturer?
Headquarters: 381 North Service Rd West, Oakville, Ontario, L6M 0H4, Canada
Contact Number: (888) 334-4448
The MuscleTech website has a contact form that clients can fill out for any of their concerns.
You can also email their team at shop@MuscleTech.com for more urgent concerns.
What are the Side Effects of MuscleTech AlphaTest?
AlphaTest is designed with all-natural ingredients. This reduces the possible side effects that users can experience, but not entirely. You may still experience allergic reactions to certain ingredients.
You may also experience nausea and headaches, which should fade within a week. If they do not, stop taking the supplement immediately.
Testosterone boosters are not intended to diagnose, treat, cure, or completely solve low testosterone levels.
This means that AlphaTest may not be effective for everyone. Its effectiveness depends on a user's genetics, dietary and lifestyle habits, and exercise routine.
How to Take MuscleTech AlphaTest?
The best time to take AlphaTest is in the morning and evening. It is best to consume it around 20 minutes before your first and last meal of the day.
Spacing the servings of Alpha Test also keeps you from taking too much of any of the ingredients at once, which reduces the risk of negative side effects.
What is the Recommended Dosage for MuscleTech AlphaTest?
It is best to take AlphaTest twice daily, with 2 pills per serving. This amounts to a recommended dosage of 4 pills daily.
Do not take more than 4 pills a day to prevent adverse effects from occurring.
What are the Best Alternatives to MuscleTech AlphaTest?
Here are some alternatives in case MuscleTech AlphaTest isn't for you:
MuscleTech Test HD - Another from the MuscleTech line, the Test HD booster, is pricier but gives you more nutrients per pill than Alpha Test.
Mantfup - Mantfup is the supplement that allows you to stay as aggressive as a bull and as graceful as a matador.
Frequently Asked Questions (FAQ)
Here are some of the most common questions that people have about MuscleTech Alpha.
Is MuscleTech AlphaTest Safe?
MuscleTech prides itself on making the Alpha-Test booster pills in GMP-compliant (Good Manufacturing Practice) facilities, making them FDA-compliant and less prone to negative side effects like allergic reactions. Still, make sure you buy Alpha-Test from trusted sources.
How Long Does It Take for MuscleTech AlphaTest to Work?
MuscleTech Alpha Test promises to raise testosterone in only 7 days, so you can see the first health benefits within the first month. It's best to take it regularly for 3–6 months to see the best results.
Do MuscleTech AlphaTest Bio Capsules Help with Building Muscle?
Muscle-Tech Alpha-Test pills boost testosterone, which helps increase metabolism, muscle building, and exercise recovery. These factors combine to help hard-gainers pack on the muscle while getting rid of stubborn body fat. This is one of the main reasons older men wish to boost testosterone levels, and it is one of MuscleTech's many promises.
Does MuscleTech AlphaTest Increase Strength and Stimulate Testosterone Production?
MuscleTech Alpha-Test supports testosterone production, strengthening muscles, bones, and joints, which increases physical performance. It helps users overcome the effects of low testosterone, giving them the energy and stamina to succeed in every part of their lives.
MuscleTech AlphaTest Review Conclusion
Overall, the Alpha Test testosterone booster is a cheap supplement that reliably increases free serum testosterone and helps you build a desired physique. However, it may not work for everyone.
Alpha Test has powerful ingredients, but some of them are in small amounts, which may keep you from getting all of their health benefits.